In a year of continued evolution and change, the South Orange Performing Arts Center (SOPAC) reflects on its impact in the regional community it partners with and serves, and thanks its supporters, staff, board, volunteers, artists, community partners, and industry and community relationships for powering the kind of revolutionary change that is now propelling SOPAC into a history-making 2023!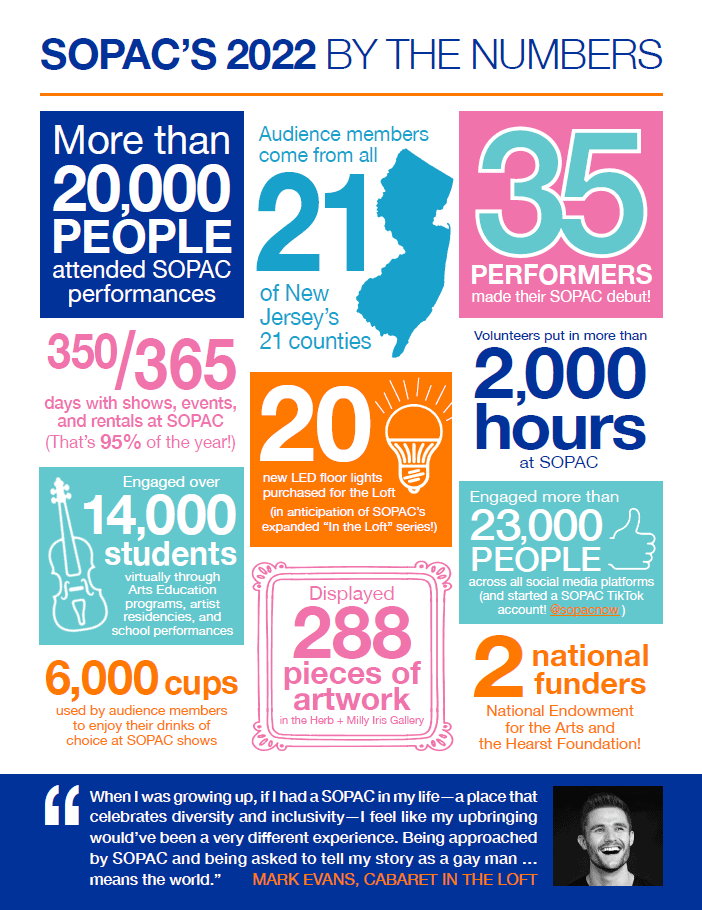 Some of SOPAC's 2022 impact highlights include:
Welcomed over 40,000 total guests for arts events, movies, and community gatherings, including nearly 21,000 attendees at SOPAC-presented arts events and over 14,000 K-12 students through arts education programs.
Debuted 35 new artists at SOPAC, from comedian Maria Bamford to Ukrainian band DahkaBrahka
Launched the new Cabaret in the Loft series, featuring exceptional Broadway talent from SOPAC's backyard community, curated by staff member Matt Luminello; the November 13 premiere event with Ginna Claire Mason played to a sold out crowd!
Inspired thousands of students through the School Performance Series, Kids 'N Family Series, and Arts Residencies, marrying social-emotional development with creativity to support kids of all backgrounds in learning, developing, and becoming their best selves. SOPAC's 2022 partners included LUX Orchestra and AileyDance Kids, working with students from South Orange, Maplewood, West Orange, Orange, and beyond.
Displayed 288 individual unique art works in The Herb + Milly Iris Gallery at SOPAC, including works from students across Essex County, New Jersey, and works from both established and emerging artists from South Orange and Maplewood. Many students showed and sold their very first art works through INSPIRED MINDS: Young Artist Exhibition, a juried show highlighting exceptional local student artistic talent.
Activated performance and community spaces 350 days out of the year: often with many events running concurrently on the mainstage, in the Loft, and throughout SOPAC, from performances, art shows, and community gatherings to dance parties, civic socials, and private events.
Announced landmark new programs, including the New Voices, New Visions series to celebrate and showcase the most interesting next generation of live performance creators. The series launches March 25 with vocalist Jimmie Herrod and continues June 10 with R&B/jazz singer AKENYA, as part of SOPAC's first-ever LGBTQ+ Pride weekend celebration.
Over 100 volunteers contributed thousands of hours of service to power SOPAC's impact: from house ushers and front of house volunteers to board members and community advisors.
Adopted a strong new strategic plan to frame up and support SOPAC's future, including naming and embracing values of equity, access, authentic relationships, artistic expression, and community.
"2022 was an important inflection year for SOPAC," says SOPAC Executive Director Stephen Beaudoin, who began his leadership tenure with the organization in September of 2022.
"From adopting a strategic plan to power our ever more impactful future to piloting new programs; from welcoming returning and new artists and audiences to our stages to re-opening our doors to the public in February after the devastating floods of 2021, this past year demonstrated once again the creativity, resiliency, and vital importance of SOPAC to our community. We look forward to fostering and growing ever more relationships in 2023 and the years ahead, and to emerging as North Jersey's favorite destination venue for live cultural experiences."
Thank you to all SOPAC individual members/donors, dedicated staff and board of governors, friends in the Township of South Orange Village and Cinema Lab, incredible corps of volunteers, friends across the arts and entertainment industry landscape, and education and community partners in Essex County and beyond for helping to power this year of positive impact!