These archives preserve past exhibitions presented in the Herb + Milly Iris Gallery. They make these exhibitions widely available, allowing everyone to continue celebrating these wonderful artists and their work while acting as a resource to retrospectively examine the artistic diversity and historical perspective of the Gallery. It also allows us to virtually highlight the Herb + Iris Gallery's mission of bringing contemporary art to a broader audience.
Curator
Jeremy Moss
Advisory Committee
Tricia Laughlin Bloom
Nigel Freeman
Maureen Gammon
Roreé Iris-Williams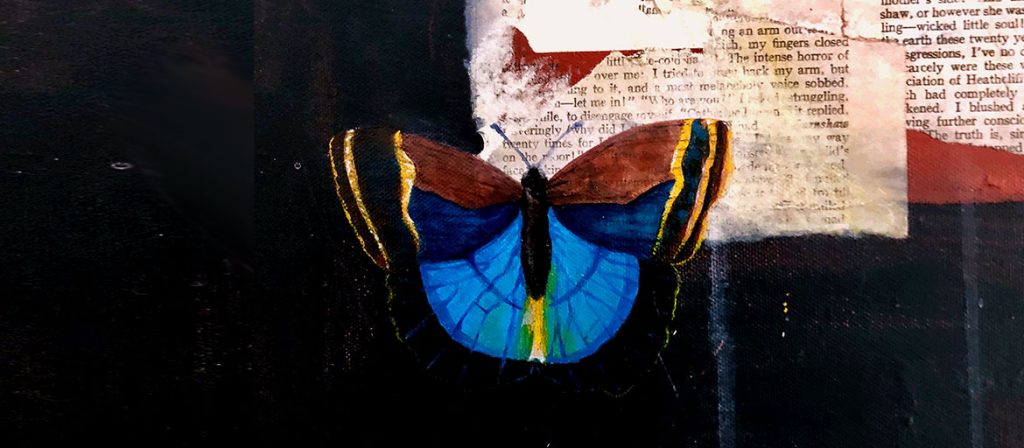 THE CURATOR'S LENS 
Curated by Jeremy Moss
January 30 – March 22, 2020
Oksana Berzinsh • Kathy Cantwell • Lyman Dally • Cat Delett • Dawn DiCicco • Christina Duarte • Thomas Farawell • Adam Gustavson • Samar Hussaini • Patricia Hutchinson • Aida Jones • Oscar Peterson • Jenny Reinhardt • Michael Steinbrick • Joel Tidey
As curator of The Herb + Milly Iris Gallery, I enjoy bringing a wide range of artistic talent to our space, and I relish presenting something new and unique. I am constantly looking to find artists creating in a new medium or who are inspired to go beyond their traditional borders.
As such, it is with extreme pleasure that we present The Curator's Lens. This group show presents work from artists I have shown with, those I have curated before and those whose work I am lucky enough to enjoy in my personal collection. For this inaugural installation, we are presenting mainly local artists. I've been mindful to select newer works that have not yet been widely exhibited and several pieces are being presented publicly for the first time. This showcase has been wonderfully exciting for me to curate and I am confident you will enjoy and be inspired by the diverse and stunning work you see on the walls of the Gallery.  -Jeremy Moss
Pictured above: partial image of Almost Before I Ceased To Be Sensible, by Cat Delett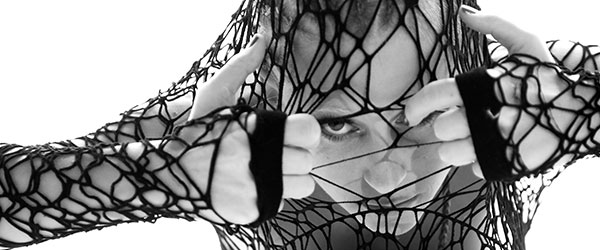 JUST DANCE… Steve Vaccariello
November 14, 2019 – January 19, 2020
In JUST DANCE…, Vaccariello's vivid and sensual portraits capture an unbridled creativity; a guileless exchange of artistic expression between two masters, each on either side of the camera lens. Vaccariello's direction is simple and straightforward, "Just dance…" Then, on film, he immortalized their liberated collaboration; a visual and a performance artist breaking free to bestow an inspired vision of beauty.
"Photography isn't what I do," says Vaccariello, "It's what I am."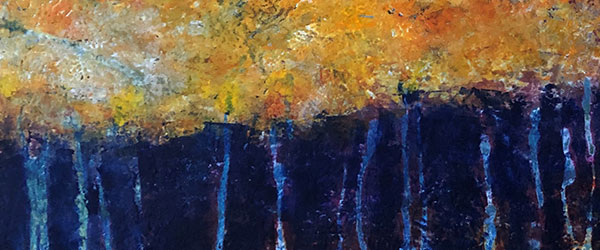 CONVERGENCE
September 12 – November 3, 2019

Barbara Bickart and Colleen Lineberry are exceptionally talented artists who excel in many creative disciplines. They are also sisters. While their lives have taken different paths, there became conscious, subconscious and non-conscious crossing points throughout their adulthood. The 'convergence' of these very different paths is at the core of this exhibition. The exhibit also hi-lights their considerable talent and allows you to submerge yourself in their journey. Bickart and Lineberry show mastery of abstraction to convey a narrative about the world around them.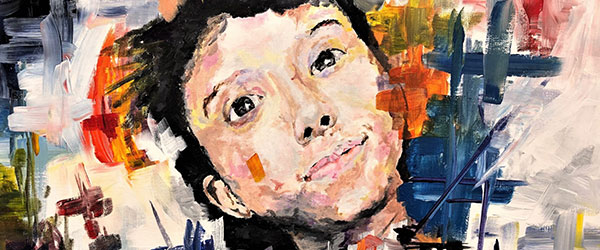 INSPIRED MINDS: Young Artist Exhibition
May 15 – August 16, 2019
INSPIRED MINDS is sponsored by the Iris Family.
Framing is generously donated by the South Orange Frame Shop.
Cover art by Dania Altayeb.
Thank you to all the participating Essex County High Schools: Belleville, Bloomfield, Cicely Tyson School of Performing and Fine Arts, Columbia, East Orange Campus, East Orange STEM Academy, KIPP Newark Collegiate Academy, Lacordaire Academy, Livingston, Millburn, Montclair, Nutley, Orange, Rae Kushner Yeshiva, Seton Hall Preparatory School, West Orange, West Side, Newark Academy, University High School and Arts High School.
View the Flickr Gallery for the 2019 INSPIRED MINDS.
Read More About INSPIRED MINDS.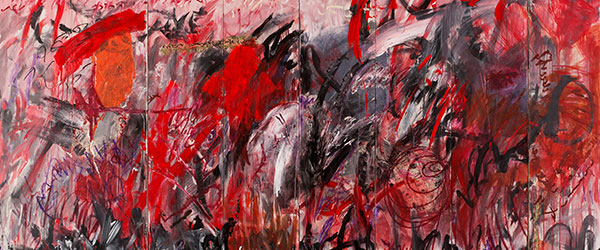 The Visual Passion Duo: The Doors
Mikel Frank and Gerard Amsellem
March 4 – April 28, 2019
This exhibition is the culmination of works created by Gerard Amsellem and Mikel Frank since their collaboration began in 2010. The large-scale paintings are done on door panels ranging in size from 18" inches wide to 120" wide and all are the standard height of 80". Gerard and Mikel enjoy sharing their collaboration with the community and have created many of the works in the exhibition in front of an audience. They both feel that by working together to create a collaborative piece a "third artist" is present, signifying the real magic of collaboration.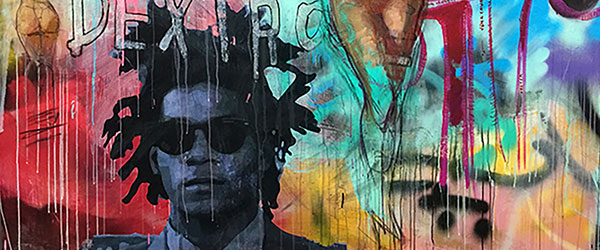 The Price of Sugar by Jenny Reinhardt
December 10, 2018 – February 22, 2019

In The Price of Sugar, Reinhardt has woven the theme of the bright and seductive appeal of sugar and confectionary, along with its dark side; the addiction, the excess and the disease. Sugar is both sweet and dangerous.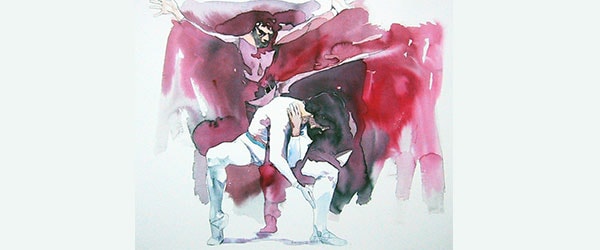 Decades of Dance by Pat Hutchinson
September 10 – November 23, 2018

Decades of Dance, from New Jersey artist Patricia Hutchinson is a collection of paintings that capture the grace and beauty of dancers' bodies in motion. Ms. Hutchinson's paintings serve as an artist's observation of the human form suspended in a crystalized moment of action.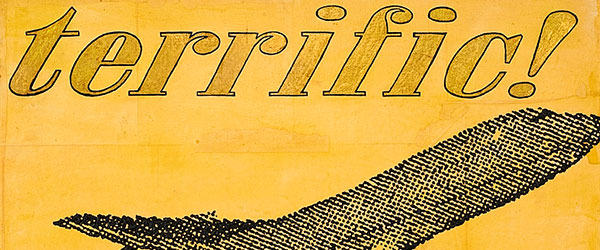 Kwalité Paintings by Joe Waks
March 5 – April 27, 2018
Joe Waks' mixed-media paintings underscore his passion for politics and popular culture. Seen through the lens of past icons and emblems of our society, his paintings become an audacious commentary on our consumerist ethos and modern society. Enter Joe's world for an upside down view of how our culture embraces the marketing messages that infiltrate our minds at every turn.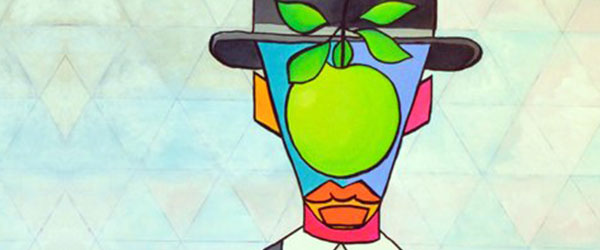 FORM by Maeva Fouché 
December 11, 2017 – February 16, 2018
A New Jersey native, born in Newark, Maeva Fouché has always embraced her Haitian-American heritage. It is evident in her work as you view the colors and cultural references. She fell in love with all things art at an early age, leading her on her journey into the art world. Fouché graduated from Kean University with a Bachelor of Fine Arts in Interior Design. She has since perfected marrying the design aspect to her influences; geometry, cubism, pop art and music. The effect is a visual stimulation that speaks both emotionally and spiritually.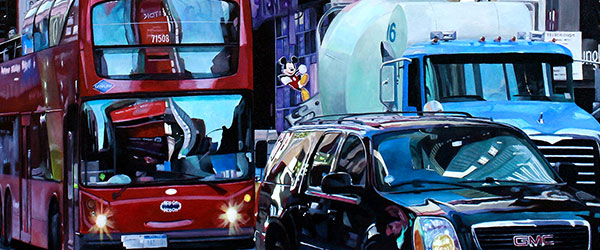 reflect: NYC by Michael Steinbrick
September 11 – November 24, 2017 
Steinbrick's paintings reflect a spiritual experience, a moment when a higher level of consciousness takes over the logical translation of what your eye is seeing. His images tell a story, both obvious and subversive. They capture the beauty in the randomness of the ever-changing advertisements and street traffic below, while the reflections change that narrative.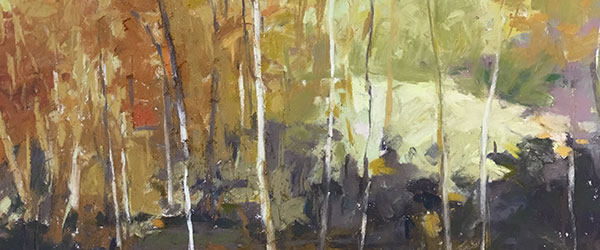 Changing Landscapes by Mary Jane Van Zeijts
March 6 – April 30, 2017

As a lover of nature, Mary Jane Van Zeijts is in search of the perfect light. Her pastel images are both luminescent and moody, a juxtaposition she catches in a seemingly effortless manner. Van Zeijts' drawings, that contain both impressionistic and abstract elements, have a distinct feel of an oil painting. Her use of color transports you to that exact moment in time.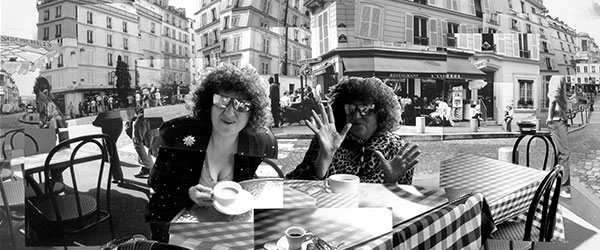 Inside Looking Out by Dorothy Anderson Wasserman
December 15, 2016 – February 23, 2017

The interplay of Wasserman's inner life and outer reality will take you on a fascinating journey of surrealist visual narratives. Wassermann's photographs are cut, rearranged and then pieced together in layers of chaos and clarity. She tells a spellbinding story using images from the past, present and an imagined future. Contemporary surrealist collage in its finest form.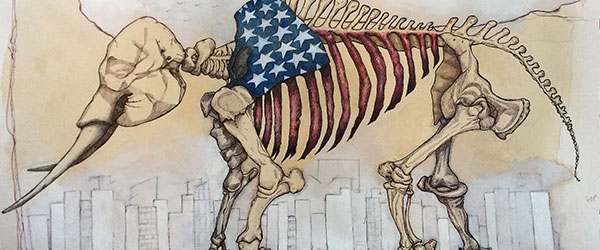 POL!TICO: ARTS & The Humanities
September 8 – December 8, 2016 
An exhibit that explored the cultural influence of politics and the humanities through the uses of various mediums of visual art. The intersection of art and politics provides an opportunity for exploration of the ideals of truth and transparency vs. censorship and political correctness as the tug-of-war between these ideological pursuits rages on.
POL!T!CO was part of a collaboration showcasing four arts organizations (SOPAC, Arts Unbound, The Baird Center's Pierro Gallery and Valley Arts Firehouse Gallery) connected by geography, and the desire to create a richer experience for viewers. This four-venue exhibit gives artists a voice in some of the size-able issues that are informing the 2016 November presidential election.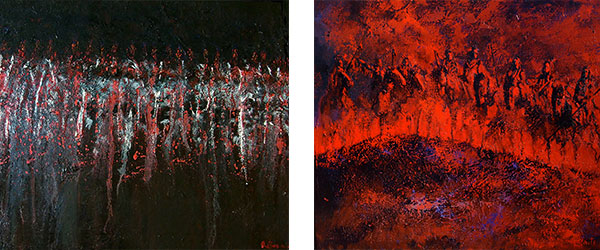 Spirited by Alberte Bernier & Ritch Gaiti
February 8 – April 30, 2016 
Spirited was a celebration of the energy, enthusiasm and determination of character, outlook and mood beyond the perceived limitations, and often opposing ideals, of Nature vs. Nurture.
For Haitian-born Alberte Bernier, painting represents a profound source of freedom as well as a desire to convey human emotion and fantasy. Like the human experience which is multi-leveled, what appear to be basic colors in her art are superimposed nuances.
Although born and raised in Brooklyn, Ritch Gaiti became visually attracted to the American west and Native American culture by the warm colors and the spiritual nature of the people and the land. He paints of the people, the land and the spirits and recaptures a feeling of a time and a culture long-gone.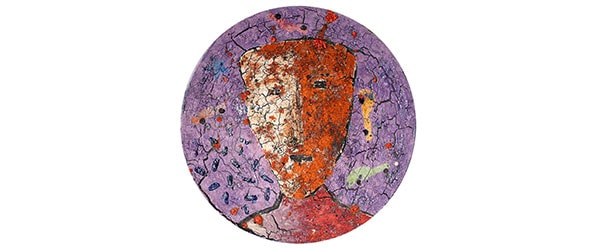 An Artful Life – An Exhibition from
the Private Collection of Herb & Milly Iris
September 1, 2015 – January 15, 2016