More than 160 guests gathered yesterday at the Orange Lawn Tennis Club for the South Orange Performing Arts Center's annual Gala. Throughout the night, guests supported SOPAC's Arts Education program and furthered the organization's mission to enrich individual lives, and to engage and serve those in our community and beyond through arts experiences that inspire and transform.
"I believe art is a fundamental, human right," explained SOPAC Executive Director Stephen Beaudoin. "I believe our world is better when we learn, create, and grow together. And I believe our regional community can achieve its full potential when creativity and art are central to our regional economy, central to building and strengthening community, with SOPAC as our collective beating heart."
SOPAC honored Paul Bartick, former Chair of the SOPAC Board of Governors, for his longtime dedication to the organization and the arts in northern New Jersey, and the South Orange/Maplewood Community Coalition on Race for its nationally recognized work building and maintaining a thriving, racially integrated suburban community.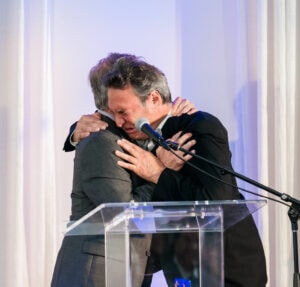 "I see SOPAC as being on a launching pad ready to launch into outer space," says Bartick, who has been a supporter of SOPAC since its inception in 2006 and Board Chair from 2016 to 2022. "All of the calamity that we have gone though over the last two years is in our rearview mirror. Tonight is about raising the roof for the future of this organization."
Nancy Gagnier, receiving the award on behalf of the South Orange/Maplewood Community Coalition on Race said: "We know the arts can be a force for social change. They can inspire civic action. There's compelling evidence of the positive changes in how people think, feel and act towards one another after participating in arts experiences. These experiences…help build community identity. For these reasons, we are so grateful for the existence of SOPAC and all that it brings to SOMA and surrounding communities. We look forward as we embark on our next 25 years to a productive and collaborative relationship with SOPAC as we continue our work on racial integration and inclusion."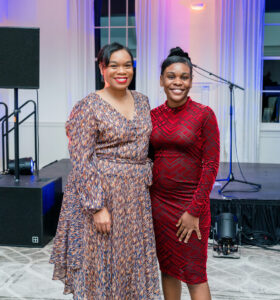 Additionally, SOPAC announced the creation of the Paul Bartick Emerging Artist Award, which will be presented annually to a middle school or high school student who has shown exceptional commitment to and talent in the arts.  The inaugural recipient of the award is Emmanuella Estime, a senior at East Orange Campus High School and a participant in SOPAC's INSPIRED MINDS: Young Artist Exhibition, where she sold her first piece of art, a self-portrait titled Gaze.
Speaking on the impact of INSPIRED MINDS and the opportunity to present her painting, Estime explained,
"Art is important to me because I can express myself: good, bad, happy, or sad.  I want people to see what I was feeling at that moment."  Continuing on, she thanked SOPAC and "each of you here tonight for giving students like me a chance to be creative, confident, and transformed."
During the program, guests watched an inspiring compilation of stories that showcase the SOPAC experience and the transformational power of the arts. View the video below.
The evening was rounded out with performances by Broadway and West End star and West Orange resident Mark Evans and his Cabaret-style set of showtunes and classics, and two-time winner of Amateur Night at The Apollo and Newark-native Alexis Morrast. Additionally, throughout the cocktail hour, a trio of young musicians from Montclair's Jazz House Kids music school serenaded guests.
"The 2022 SOPAC Gala was a powerful demonstration of what's possible when our community comes together around a common cause," reflected Beaudoin. "In a world wracked by wars and economic uncertainties, in a time when civility and care can feel out of fashion, this gathering proved what we all truly know in our hearts: when we collectively reach for something larger than ourselves, and give with all we've got, then powerful positive transformation can occur."
SOPAC relies on donations to support performances in the Jennifer & Tony Leitner Performance Hall, exhibitions in The Herb + Milly Iris Gallery, intimate performances in The Loft, and its robust arts education program.
This season, SOPAC has already hosted celebrated comedians such as SNL's and Stranger Things' Paul Reiser, and internationally renowned musicians such as David Broza & Trio Havana and John Pizzarelli & Catherine Russell in its performance hall.  SOPAC is very excited for what's yet to come, including Valerie Simpson, of the acclaimed duo Ashford & Simpson and co-author of the classic "Ain't No Mountain High Enough;" and guitarist and author Josh Ritter, among many others.
SOPAC's arts education programs include an annual School Performance Series, arts residencies at local public schools, the Region 5 Poetry Out Loud competitions, and the INSPIRED MINDS: Young Artist Exhibition presented by local high school students at SOPAC's Herb + Milly Iris Gallery.
Further donations to SOPAC can be made HERE.
The evening's success would not have been possible without the generous support of the Gala's title sponsor Sam Joseph, Luxury Collection Specialist at Prominent Properties Sotheby's International Reality and others:
Title Sponsor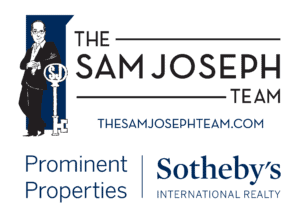 Director Sponsors

*       


Anthony & Jennifer Leitner
Peter Shapiro & Bryna Linett
*Denotes In-Kind Donors

Signature Sponsors


Carole Anzalone-Newman & Douglas Newman
Anonymous Friends of SOPAC
Host Committee Sponsors

Anonymous
Carol & Larry Brodey
The Chalom Family
Samuel M. Convissor
Dr. Paul & Catherine Desjardins
Frederick & Maureen Gammon
Robert & Mattye Gandel
Carol & Gerry Gardner
Eli & Risa Goldstein
Randall Haase & Judith Rosenberg
Kelly Quirk in Honor of Board of Trustees of the Community Coalition on Race
Terry & NaDeen Richardson
Ann & Mel Schaffer
Stephen A. Schnall
Leo & Barbara Sender
Katherine & Michael Tooley
Jerry & Hanie Warshaw