At the 2022 SOPAC Gala on Saturday, November 5, the South Orange Performing Arts Center (SOPAC) announced the creation of the Paul Bartick Emerging Artist Award and its inaugural recipient Emmanuella Estime, a senior at East Orange Campus High School.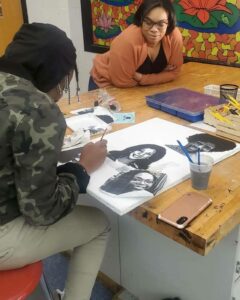 In July 2021, Estime came to New Jersey from the Bahamas to live with her aunt in pursuit of better education and greater opportunities.
Initially, Estime struggled with her transition to life in the United States, missing her mother, father, and two sisters, Mia and Gabriella.
That all changed when she took an art class in school with instructor April Hart.
With encouragement from Hart, Estime submitted Gaze, a self-portrait she painted in class, to the INSPIRED MINDS: Young Artists Exhibition, at SOPAC's Herb + Milly Iris Gallery.  The INSPIRED MINDS program is a celebration of young artists in Essex County and the surrounding regions, providing high school students with the opportunity to undergo a full professional gallery experience, from application through exhibition and possible sale of their art.
Estime sold both the original painting and a print of the work at the exhibition.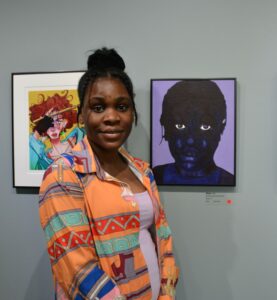 Speaking on her painting's success, Estime explained "It felt very exciting and overwhelming, but also comforting, to know that someone really liked it and wanted something I created.  I felt so proud. My confidence went up another level. I thought, 'I really want to do art now.'"
When announcing Estime as the inaugural Paul Bartick Emerging Artist Award recipient, SOPAC's Director of Community Engagement and INSPIRED MINDS organizer Linda Beard praised Estime as "an exceptional and deserving student with a fervent commitment to her craft and her talent in the arts."
The Paul Bartick Emerging Artist Award will be presented annually to a middle school or high school student who has shown an exceptional commitment to and talent in the arts. These young artists may be painters, sculptors, musicians, poets, dancers, actors, and more. To be eligible for the award, students must be nominated by an arts teacher or instructor who will submit an application on their behalf to SOPAC in the spring of each year.  Selected students will receive a commemorative plaque and a monetary award to be used to support continuing arts education, lessons, programs, or arts materials.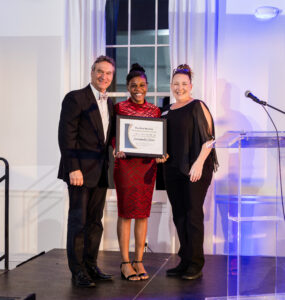 Paul Bartick was Chair of the SOPAC Board of Governors for six years, from 2016 to June 2022 and an honoree at the 2022 SOPAC Gala.  During his tenure, Bartick guided SOPAC through the Covid-19 pandemic and reconstruction and repair efforts after Hurricane Ida.  Bartick has been part of SOPAC since its beginning as a co-producer of its 2010 gala "Small Town, Big Talent," celebrating the life of his longtime friend Jonathan Felsman.
Bartick's friend and fellow SOPAC Board Member Steven Schnall said it best: "The award is named for Paul Bartick who just personifies…care and compassion for the arts."
Bartick, upon learning about the award for the first time at the 2022 SOPAC Gala, said, "Community, if you recall, has both a 'u' and an 'I' in it, and that's what this community is about.  It's about all-inclusivity.  It's about our young people. And it's about inspiring them in the arts."