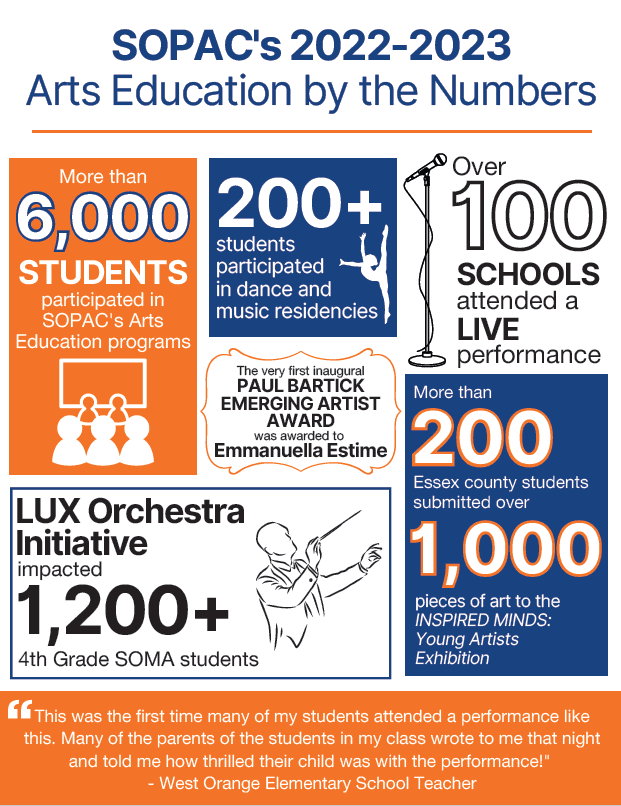 Some of SOPAC's 2022-23 Arts Education highlights include:
SOPAC's Arts Education program for 2022-2023 has seen impressive participation. The 6,000+ students highlight the success of programs across genres, types of engagement, and the program's broad reach.
SOPAC welcomed 100+ elementary schools to attend a live theatre School Performance. Students enjoyed classics like Stone Soup and Other Stories and The Jungle Book, explored the cultural celebrations around the world with A Season of Miracles: Holiday Tales, learned the secrets behind magic, and watched their teacher float in midair with Bill Blagg's Science of Magic.
The LUX Orchestra Initiative, designed in collaboration with SOMA's elementary school Music teachers, introduced 1200+ SOMA students to the orchestra and its instrument families, as well as the various ways classical music is presented, from symphony to ballet to opera and even movie scores. This program is the initial step in the students' journey to select instruments for their instrumental instruction.
Named for long-time community and arts supporter and past Chair of SOPAC's Board of Governors, The Paul Bartick Emerging Artist Award recognized its inaugural recipient, Emmanuella Estime, a senior from East Orange Campus High School. The award recognizes a student, nominated by their teacher, who is involved in one of SOPAC's Arts Education programs and has shown an exceptional commitment to and talent in the arts.
INSPIRED MINDS: Young Artist Exhibition is a tribute to Essex County high school artists. More than 200 students from 18 high schools submitted more than 1,000 pieces of artwork to be adjudicated for the exhibition. In the end, 71 students' artworks were selected to hang in the Herb + Milly Iris Gallery through August 20, 2023.
SOPAC's Arts Residency Programs, customized for each participating school, created opportunities for more than 200 students to work with and learn from a team of professional artists in small-sized classrooms to maximize student learning.  This year, two new residencies, one in Jazz Music at Columbia High School and one in Dance at West Orange High School, were launched, expanding the reach and impact of SOPAC's Arts Education programs.
"Young people are so close to our hearts here at SOPAC," says Executive Director Stephen Beaudoin.  "As we bring our 2022-23 season across the finish line, we're proud to reflect with our community on the many ways our education programs made a positive impact in the lives of young people, teachers, families, and the community at large. From our beloved INSPIRED MINDS: Young Artists Exhibition showcasing young visual artists to our dance and music residencies, daytime school performance series, and more – to impact the lives of thousands of K-12 students in our community is richly meaningful and an obligation we take seriously at SOPAC.
"SOPAC is proud to partner with our community's teachers, districts, parents, and students to provide transformational learning and self-actualization experiences through music, theatre, poetry, dance, and the visual arts.
"And to all the young people that took part in these programs," Beaudoin continues. "Congratulations on your participation, and thank you. At SOPAC, we celebrate all that you are, and all you aspire to be."
SOPAC would like to thank the New Jersey State Council on the Arts, Orange Orphan Society, Hearst Foundations, National Endowment for the Arts, Frank and Lydia Bergen Foundation, PSEG Foundation, and Investors Foundation, for their generous and continued support of its arts education programs.