Join us for our first-ever Drag show in SOPAC's 16-year history! This show is filled with over-the-top entertainment from some of the top Drag Performers from New York, Pennsylvania and New Jersey—featuring all new performances.
Whether it's your first Drag Show or your 100th, this show is a guaranteed great time for everyone!
Tickets on sale soon
About Cabaret in the Loft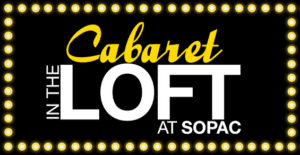 SOPAC's Cabaret in the Loft series is a 54 Below-esque experience, west of the Hudson River. The club-like atmosphere of the SOPAC Loft is perfect for this intimate series. Many performers in the series live in the greater SOMA area, which was appropriately named the place "where Broadway comes home to sleep" by the New York Times.
Cabaret in the Loft is curated by Matthew Luminello, SOPAC's Audience Services Manager, a former Broadway usher and current local theater performer.
Covid-19 Precautions & Policies
Please know that SOPAC is dedicated to ensuring the health and safety of our entire community and we thank you in advance for reviewing our Covid-19 Precautions & Policies when planning your visit.
Read our Covid-19 Precautions & Policies
Questions? Contact the SOPAC Box Office at
(973) 313-2787 or boxoffice@SOPACnow.org
If you or a member of your party needs assistance, please notify SOPAC at the time your tickets are purchased. The SOPAC Box Office can be reached at (973) 313-2787.