Last Chance! Exhibit Ends Sunday, January 30
This is your last chance to see two dozen "metal origami" pieces by artist Jeremy Iris-Williams. This exhibition closes on January 30.
It's the 10th anniversary of The Herb + Milly Iris Gallery! Through January 30, please consider donating to the Iris Gallery in support of this special milestone.
L'DOR V'DOR: CARRYING THE TORCH
By Jeremy Iris-Williams
Curated by Jeremy Moss
On Display December 4-January 30.
Hours & Admission The Gallery is free and open from Monday-Saturday, Noon-6PM.
Opening Reception & Fundraising Event Saturday, December 4 from 6-9PM
The Herb + Milly Iris Gallery at SOPAC celebrates its 10th anniversary with a special fundraiser and exhibition. "L'Dor V'Dor: Carrying the Torch" by Jeremy Iris-Williams (Herb and Milly's grandson) is the first metal art exhibition by this emerging artist.

L'dor V'dor is a Hebrew expression meaning "from generation to generation." This phrase encapsulates the notion of honoring one's predecessors by passing on wisdom, traditions and stories.

The Iris family perfectly embodies the significance of this expression.
Milly established the Iris Gallery in 2011 to honor her late husband, Herb. Once Milly passed in 2014, the couple's daughters, Roreé and Kerry, honored their parents through continued support of the Iris Gallery. Now, Roreé's son Jeremy is exhibiting in the art Gallery.
"Jeremy Iris-Williams is a torch bearer, both figuratively and literally," says Iris Gallery curator Jeremy Moss. "He continues the creative lineage of his Nona, Milly Iris, who inspired him to become the artist he is today."

The "L'Dor V'Dor: Carrying the Torch" exhibition will be on view from December 4, 2021-January 30, 2022. The Gallery is open from Monday-Saturday, Noon-6PM. Visitors can purchase tickets to the Opening Reception or contribute to the Gallery Fundraiser through SOPACnow.org.
Milly was a pioneer of the American crafts movement, opening a one-of-a-kind crafts gallery, Whichcraft Studio, in South Orange in 1970. Later, Milly served on the first SOPAC Board of Governors, which was responsible for cultivating the vision for SOPAC. A steadfast believer in "living with art," Milly passed that passion for creativity on to her grandson, Jeremy. She fostered his curiosity in the arts and encouraged him to pursue his talents. She encouraged him, challenged him, and most importantly, believed in him.

Ten years ago, in celebration of Milly's 80th birthday, Jeremy unveiled his first sculpture— a large, striking wooden piece—at SOPAC. Six years later, Jeremy enrolled in the University of the Arts in Philadelphia. His application concluded with a heartfelt dedication "…in honor of Nona, who made me believe I could be an artist."
In college, Jeremy quickly discovered a talent and affinity for metal sculpture and immersed himself in welding and metal fabrication. Most of Jeremy's work is abstract and unpredictable. He is interested in using metal in unexpected ways.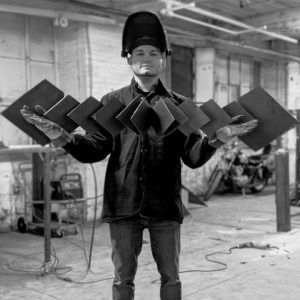 "I see a sheet of steel as my blank canvas," says Jeremy Iris-Williams. "There are no rules or restrictions. I have full freedom to think and create. With my metalworking, the possibilities are endless."

About two dozen of his pieces will be on view in "L'Dor V'Dor: Carrying the Torch." These works were created in the artist's Kensington, Philadelphia studio over the last year and a half.

"I would describe them as 'metal origami' with a twist," says curator Jeremy Moss. "Whether they be decorative or functional, his sculptures are fascinating, thought provoking and elegant."

Milly fueled her grandson's creative flame and Jeremy is proud to "carry the torch." His return to The Herb + Milly Iris Gallery honors his Nona and recognizes the ways in which art binds people together. May their intergenerational bond and dedication to the arts inspire a creative spark in other's lives.
View the Flickr Gallery for this Exhibition
If you are interested in making a purchase, please contact Linda Beard at (973) 382-1035 or lindab@sopacnow.org.
IMPORTANT: Due to Hurricane Ida restoration efforts, the main entrance of SOPAC is currently closed. Please enter the building through the Cinema Lab movie theater doors and use the stairs or elevator to get to the gallery on the second and third floors. 
Hurricane Ida Recovery & How You Can Help
Covid-19 Precautions & Policies

Read our Covid-19 Precautions & Policies
Please know that SOPAC is dedicated to ensuring the health and safety of our entire community and we thank you in advance for reviewing our Covid-19 Precautions & Policies when planning your visit.
Questions? Contact the SOPAC Box Office at
(973) 313-2787 or boxoffice@SOPACnow.org