Enjoy an evening of "soulful mainstream Jazz" (Jazz Wise) with Vince Ector's Organatomy Trio+, including Pat Bianchi on organ, Paul Bollenback on guitar and Antonio Hart on alto and soprano sax.  This is a Jazz in the Loft event you don't want to miss!
The Vince Ector Trio playing at Jazz Bridge
About Vince Ector
Vince Ector is one of the leading drummers on the Jazz scene today.  Born in Philadelphia, he has performed with Randy Weston, Freddy Hubbard, Hank Jones, Charles Earland, James Moody, Slide Hampton, Jimmy Heath, Gloria Lynne, Houston Person, Bobby Watson, Lou Donaldson, Grover Washington Jr., Dr. Lonnie Smith, Joey DeFrancesco, Pat Martino, Ron Carter, Claudio Roditi, and the Dizzy Gillespie All-Star Bands.  Ector's recordings as a band leader include Theme for Ms. P, Organatomy, Renewal of the Spirit, and Rhythm Master.  Ector has performed at many of the world's leading Jazz festivals, theaters, and Jazz clubs and is highly active in the music education field.  Ector is a Lecturer of Music at Princeton University and The Founder and Executive Director of Arts For Kids, Inc.
About Jazz in the Loft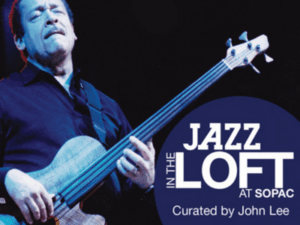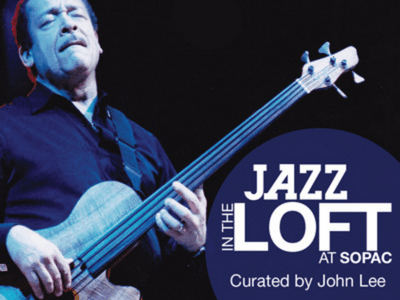 For this series curated by Grammy-winning producer John Lee, the SOPAC Loft turns into a Jazz club featuring regional, world-class artists in an intimate setting.
SOPAC Member Discounts
$10 off tickets ($25 and up) for Benefactor, Impresario and Producer-level members ($900+)
$5 off tickets ($25 and up) for Advocate, Family, Ambassador and Champion-level members ($65-$500)Not a Member? Join Today!
Covid-19 Precautions & Policies
Please know that SOPAC is dedicated to ensuring the health and safety of our entire community and we thank you in advance for reviewing our Covid-19 Precautions & Policies when planning your visit.
Read our Covid-19 Precautions & Policies
Questions? Contact the SOPAC Box Office at
(973) 313-2787 or boxoffice@SOPACnow.org
If you or a member of your party needs assistance, please notify SOPAC at the time your tickets are purchased. The SOPAC Box Office can be reached at (973) 313-2787.