Sundays at 2PM (Jan 5, Feb 2, Mar 1, Apr 5)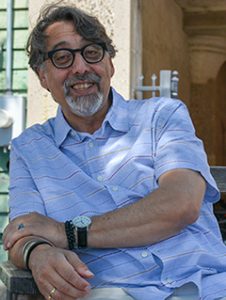 Enjoy access to exclusive screenings of award-winning foreign films as a member of La Cinémathèque. Plus, explore and discover the origins of modern film, renowned filmmakers and human interest stories. La Cinémathèque Film Club events are curated and hosted by Gerard Amsellem in the SOPAC Loft.
Memberships are available for sale through the second screening of a series as the discussions around each film build upon prior events.
Gerard Amsellem
Artist, educator and filmmaker Gerard Amsellem is an American and French citizen whose special interests lie in classic, foreign and independent films from all over the world.
Gerard moved to the U.S. after spending his first 25 years in Paris, France. He studied painting at the University of Paris and earned Masters Degree in French Literature and Art History while living in France. Gerard continued his studies in the U.S. at the New York University Tisch School of the Arts.
Gerard has directed several short films and is currently working on two independent film projects. His short film, Bartleby (2013), was awarded a Director's Citation by the Black Maria Film Festival, and made an Official Selection of both the Garden State Film Festival and the Twin Rivers Film Festival in Asheville, NC. The mission of his production company, New Waves Productions, is the promotion of film as an art form and public access to high quality cinema.
As an educator, Gerard developed the curriculum for the first ever foreign film course at Livingston High School and he also pioneered a program that engages students in the art of film-making, from screenwriting to editing. Gerard's critically acclaimed abstract paintings have been exhibited both in Paris and locally at SOPAC, GAS Gallery & Studio, the Baird Center, Riker Hill Art Park and 1978 Maplewood Arts Center. For more information, contact linguavision@gmail.com.
Indian Film Series
Join us to discover and understand the country of India though four critically-acclaimed films. Cinema is immensely popular in India, which is home to the world's largest film industry, both in terms of number of films produced as well as tickets sold. These four films represent the independent and artistic side of the Indian film industry.
SUN, JAN 5 at 2PM | Pather Pantchali (1955)
Directed By: Satyajit Ray
Award Highlights: India's National Film Award for Best Feature Film, Best Human Document award at Cannes 
Impoverished priest Harihar Ray (Kanu Bannerjee), dreaming of a better life for himself and his family, leaves his rural Bengal village in search of work. Alone, his wife, Sarbojaya (Karuna Bannerjee), looks after her rebellious daughter, Durga (Uma Das Gupta), and her young son, Apu (Subir Bannerjee), as well as Harihar's elderly aunt Indir (Chunibala Devi). The children enjoy the small pleasures of their difficult life, while their parents suffer the daily indignities heaped upon them.
SUN, FEB 2 at 2PM | The Cloud Capped Star (1960)
Directed By: Ritwik Ghatak
Award Highlights/Honors: Included in the book 1001 Movies You Must See Before You Die
Nita struggles to support her siblings and elderly father on the outskirts of the poverty-stricken city. While her brother dreams of becoming a famous classical singer, Nita hopes one day to marry a young scientist, who appears to return her affections. However, when it becomes clear that the young man is more interested in Nita's sister, she falls dangerously ill, becoming a burden on her family.
SUN, MAR 1 at 2PM | Water (2005)
Directed By: Deepa Mehta
Award Highlights: Best Cinematography, Best Original Score and Best Actress at the Genie Awards or Canadian Screen Awards
The concluding part of Deepa Mehta's 'elemental' trilogy of dramas examines the plight of a group of widows in late 1930s India who are forced into poverty following the deaths of their husbands. Resigned to being ignored by society, one of them breaks ranks as she tries to strike up an unlikely relationship with a follower of Mahatma Gandhi.
SUN, APR 5 at 2PM | Masaan (2015)
Directed By: Neeraj Ghaywan
Award Highlight: FIPRESCI Prize for Un Certain Regard at Cannes Film Festival
Benares, the holy city on the banks of the Ganges, deals out cruel punishment for those who do not respect moral traditions. Deepak, a young man from a poor neighborhood, falls hopelessly in love with a young girl from a different caste.
If you or a member of your party is in need of assistance please notify SOPAC at the time your tickets are purchased. The SOPAC Box Office can be reached at (973) 313-2787.