Eleri Ward's album is "a one-of-a-kind fusion of Musical Theatre and Alternative music that reveals colors of Sondheim that are revelatory."
– Broadway World
Conservatory-trained Eleri Ward took social media by storm with her groundbreaking fusion of Broadway and Indie-Folk.  American Theatre Magazine lauds her album, A Perfect Little Death, as "incandescent" with its soulful, crooning interpretations of Sondheim classics such as "Not A Day Goes By" and "Unworthy of Your Love".  The New York Times aptly describes Ward's musical style as a fusion of "Sondheim's Emo register with a familiar coffeehouse Folk sound."  The only way to truly put a finger on her unique style is to hear it for yourself.
Don't miss Ward's SOPAC debut!  Get your tickets now!
"The swirling counterpoint of her acoustic guitar figures and her finely etched vocals manage to create an alternative-universe Sondheim, where all the melancholy and equivocation, all the vulnerability and yearning, of his music is channeled convincingly through a different genre."
– American Theatre Magazine
Eleri Ward performs "Move On" Live from Sunday In The Park With George
With Broadway star Bobby Conte at Sony Hall in New York City
Official Music Video for Eleri Ward's Interpretation of "Joanna (Reprise)" from Sweeney Todd
About SOMA Stage at SOPAC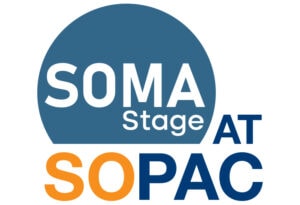 Creative Community Brain Trust member Diana Spialter and her local theater company SOMA Stage proudly support and partner with SOPAC.  SOMA Stage is a new non-profit theater company based in the South Orange/Maplewood (SOMA), NJ area that provides our many local professional theater artists with a creative home in their backyard and allows our community to support and enjoy the talent of their neighbors.
SOPAC Member Benefits
Member Pre-Sale: Wednesdays, February 8 at 12PM
Member Discounts:  Members at the Advocate Level or higher ($65+) will receive a discounted ticket price.
Not a Member? Join Today!
Covid-19 Precautions & Policies
Please know that SOPAC is dedicated to ensuring the health and safety of our entire community and we thank you in advance for reviewing our Covid-19 Precautions & Policies when planning your visit.
Read our Covid-19 Precautions & Policies
Questions? Contact the SOPAC Box Office at
(973) 313-2787 or boxoffice@SOPACnow.org
If you or a member of your party needs assistance, please notify SOPAC at the time your tickets are purchased. The SOPAC Box Office can be reached at (973) 313-2787.