Photos by Mike Mullan Photography
On Wednesday, May 25, the South Orange Performing Arts Center, Cinema Lab, the township of South Orange Village and South Orange Downtown celebrated the completion of Hurricane Ida renovations in the town's anchor cultural institution.
"The sun is shining forth at SOPAC," said Dee Billia, Executive Director of the South Orange Performing Arts Center. "There is no way to understate what a challenging journey it's been. The COVID-19 closure, then a devastating flood stretched our resources. Thank you to the many, many donors who sustained us. Without support from so many, our doors might be closed right now."
Paul Bartick, SOPAC Board Chair, echoed Billia's sentiments and provided a recap of SOPAC's Hurricane Ida recovery journey.
"We are so excited to welcome you back to SOPAC," said Bartick. "Look around you and take in our beautiful space! We waited nearly two and a half years—yes, it was that long—to fully reopen the Jennifer and Tony Leitner Performance Hall and our lobbies. After readying the theatre to finally open following 18 months of being dark due to COVID-19, we were hit by Hurricane Ida a mere eight days before we expected to open our doors. The storm surge left our lobby underwater and ruined our stage. That was September 1, 2021. Dee and the staff spent the next five months remediating and renovating the entire house."
Although mainstage performances resumed in February 2022, renovations continued through to May 2022. Now, SOPAC has a new stage and orchestra pit, freshly painted walls and modern carpeting throughout all three floors of the building, including The Herb + Milly Iris Gallery and Cinema Lab movie theaters. Patrons will enjoy a more cohesive and pleasant lobby experience. In addition, SOPAC rehabbed its administrative offices and added 25 new lighting fixtures in the theatre. Read more about SOPAC's Hurricane Ida recovery here: SOPACnow.org/Storm-Update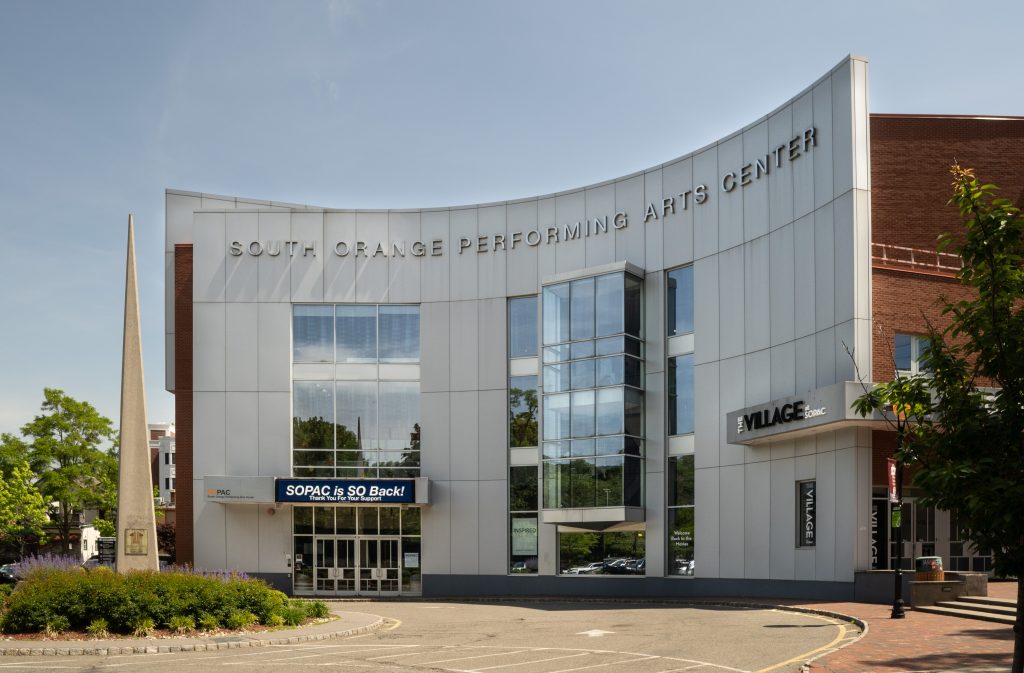 Bartick continued:
"During our 23-month 'break,' the SOPAC Board of Governors brought in Cinema Lab to operate the movie theater housed within SOPAC. Cinema Lab is a phenomenal community partner bringing South Orange first-run Hollywood blockbusters and the best independent films."
Luke Parker Bowles, Chief Executive Officer of Cinema Lab noted:
"One could not wish for a more supportive, enthusiastic or symbiotic relationship than the one we have with SOPAC. Our two entities have meshed so beautifully, both in the amazing new interior design, but also in the approach we both take towards the community in our programming, outreach and special events. We feel blessed to be a part of South Orange. Thank you all for welcoming us with open arms."
Although not in attendance, ahead of the ceremony Sheena Collum, South Orange Village President, added:
"Please join me in celebrating the official reopening of the South Orange Performing Arts Center! Since 2006, this cultural centerpiece of South Orange has brought high-quality live entertainment to our town and beyond. SOPAC is so resilient, and the venue's new, modern look is sure to elevate the arts experiences it provides. Our community is incredibly fortunate to have such a vibrant arts hub."
Following the ribbon-cutting ceremony, guests took self-guided tours of the refurbished Jennifer & Tony Leitner Performance Hall, The Herb + Milly Iris Gallery and the lobbies. Currently on display in the gallery is INSPIRED MINDS: Young Artist Exhibition, a visual arts program that provides a professional experience to Essex County high school arts students. After the tours, Cinema Lab offered a free screening of Downton Abbey: A New Era. 
Today's ceremony and celebration wasn't just about reflecting on the past, but also looking towards the future.
"As we welcome you to SOPAC to hear great musicians, see beautiful dance, laugh with irreverent comedians and more, we are connecting with those who love the arts as much as we do," said Billia.
SOPAC is in the final stages of completing a new three-year strategic plan.
"One of the things that continually rose to the surface during our nine-month strategic planning process was the concept of community —our tribe – and our desire to connect more deeply with all of you. We will be letting you know more about this strategic plan in the next few months, but I can share with you that community engagement is at the top of our planning and core values. We are excited and energized by the possibilities."