Stand-up comedian and South Orange native Jessica Kirson is a powerhouse on stage!  She's a hilariously relatable performer of sheer silliness, vulnerability, and ridiculous characters.  Videos of her countless comedic characters earned more than 50 million views on social media, and The Montreal Gazette praises her for taking "self-deprecating to another level, turning it into an art form" in her comedy shows.
Her most recent album, The Call Girls, featuring Rachel Feinstein, showcases Kirson's unique style.  Recorded virtually during the depths of quarantine, The Call Girls features a riotous cast of characters such as old Jewish grandmothers, sexy co-eds, a conservative mother and her gay son, and more.  These hilarious characters prank call different establishments from bakeries to diners to vitamin shops and more.
In an era where only 10% of all touring comedians are female, Kirson stands out as one of the strongest, regardless of gender, winning the coveted Nightlight Award for "Best Stand Up Comedian" in New York City.  Kirson has performed at Marshall's Women in Comedy, Comedy Central's South Beach, and HBO's Las Vegas comedy festivals.  She is also a regular contributor on The Howard Stern Show.
Don't miss your chance to laugh the night away with Kirson as part of SOPAC's first ever LGBTQ+ Pride weekend!  Get your tickets now!
Jessica Kirson on The Tonight Show Starring Jimmy Fallon
About SOPAC Pride Weekend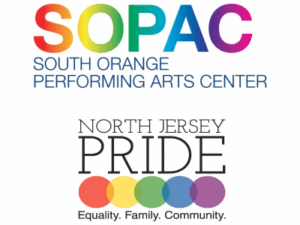 SOPAC is proud to partner with North Jersey Pride for SOPAC's inaugural LGBTQIA+ Pride weekend!
This weekend is a celebration of the robust, passionate, and vibrant LGBTQIA+ community, in and around SOMA. SOPAC is proud to present a weekend of programing exclusively highlighting LGBTQIA+ artists.
SOPAC Member Benefits
Member Pre-Sale: Wednesday, March 1 at 12PM
Member Discounts: Members at the Advocate Level or higher ($65+) will receive a discounted ticket price.
Not a Member? Join Today!
Covid-19 Precautions & Policies
Please know that SOPAC is dedicated to ensuring the health and safety of our entire community and we thank you in advance for reviewing our Covid-19 Precautions & Policies when planning your visit.
Read our Covid-19 Precautions & Policies
Questions? Contact the SOPAC Box Office at
(973) 313-2787 or boxoffice@SOPACnow.org
If you or a member of your party needs assistance, please notify SOPAC at the time your tickets are purchased. The SOPAC Box Office can be reached at (973) 313-2787.