Sundays at 2PM (Sep 15, Oct 20, Nov 17, Dec 8)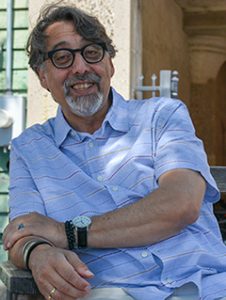 Enjoy access to exclusive screenings of award-winning foreign films as a member of La Cinémathèque. Plus, explore and discover the origins of modern film, renowned filmmakers and human interest stories. La Cinémathèque Film Club events are curated and hosted by Gerard Amsellem in the SOPAC Loft.
Memberships are available for sale through the second screening of a series as the discussions around each film build upon prior events.
Gerard Amsellem
Artist, educator and filmmaker Gerard Amsellem is an American and French citizen whose special interests lie in classic, foreign and independent films from all over the world.
Gerard moved to the U.S. after spending his first 25 years in Paris, France. He studied painting at the University of Paris and earned Masters Degree in French Literature and Art History while living in France. Gerard continued his studies in the U.S. at the New York University Tisch School of the Arts.
Gerard has directed several short films and is currently working on two independent film projects. His short film, Bartleby (2013), was awarded a Director's Citation by the Black Maria Film Festival, and made an Official Selection of both the Garden State Film Festival and the Twin Rivers Film Festival in Asheville, NC. The mission of his production company, New Waves Productions, is the promotion of film as an art form and public access to high quality cinema.
As an educator, Gerard developed the curriculum for the first ever foreign film course at Livingston High School and he also pioneered a program that engages students in the art of film-making, from screenwriting to editing. Gerard's critically acclaimed abstract paintings have been exhibited both in Paris and locally at SOPAC, GAS Gallery & Studio, the Baird Center, Riker Hill Art Park and 1978 Maplewood Arts Center. For more information, contact linguavision@gmail.com.
Latin American Series
The Latin American film series features four important and award-winning films from Brazil, Mexico, Argentina and Peru. Post-screening discussions will center around the culture and politics of each country as presented in the films as well as the artistic content and human interest stories.
SUN, SEP 15 at 2PM | Central Station (1998)
Directed By: Walter Salles (Brazil)
Award Highlights: Golden Globe, BAFTA, Film Critics
Nomination Highlights: Academy (2), Golden Globe National Society of Film Critics
Bitter former schoolteacher Dora supports herself by taking dictation from illiterate people in Rio de Janeiro who want to write letters to their families and then pocketing their money without ever mailing the envelopes. One day, Josue, the 9-year-old son of one of her clients, is left alone when his mother is killed in a bus accident. Reluctantly taking him in, Dora joins the boy on a road trip to find his long-missing father.
SUN, OCT 20 at 2PM | Amores Perros (2000)
Directed By: Alejandro González Iñárritu (Mexico)
Award Highlights: BAFTA, Ariel Mexican Academy (11)
Nomination Highlights: Golden Globe, Academy
A bold, intensely emotional, and ambitious story of lives that collide in a Mexico City car crash. Inventively structured as a triptych of overlapping and intersecting narratives, Amores Perros explores the lives of disparate characters who are catapulted into unforeseen dramatic situations instigated by the seemingly inconsequential destiny of a dog named Cofi.
SUN, NOV 17 at 2PM | The Secret in Their Eyes (2009)
Directed By: Juan José Campanella (Argentina)
Award Highlights: Academy, Ariel Mexican Academy, Goya (2)
Hoping to put to rest years of unease concerning a past case, retired criminal investigator Benjamín Espósito begins writing a novel based on the decades-old unsolved mystery of a newlywed's rape and murder. With the help of a former colleague, Judge Irene Menéndez Hastings, Benjamín attempts to make sense of the past. The journey through his memories sets Benjamín on a thrilling emotional path that leads to a shocking realization.
SUN, DEC 8 at 2PM | Undertow (2010)
Directed By: Javier Fuentes-León (Peru)
Awards Highlights: Sundance, Philadelphia QFest (2)
Nomination Highlights: GLAAD, Cartagena
Miguel is happily married to Mariela, who is pregnant with their first child, and the couple are well respected in their community and active in the local church. But Miguel is also in love with Santiago, an artist, and the two have secretly been having an affair. Santiago drowns one evening while swimming, and his ghost visits Miguel, telling him that his spirit will not know peace until Miguel finds the courage to tell the community about their love.