Wednesday, November 9 at 7:30PM
Darlingside has long been praised for their mesmerizing harmonies and wistful songwriting, described by NPR as "exquisitely-arranged, literary-minded, baroque Folk-Pop," and compared to Crosby, Stills and Nash; Simon & Garfunkel; and The Byrds.
Darlingside
If Darlingside's first album, Birds Say (2015), focused on the past through nostalgia, and their second, Extralife (2018), contemplated uncertain futures, Fish Pond Fish stands firmly in the present, looking at what's here, now. Dave Senft (bass), Don Mitchell (guitar, banjo), Auyon Mukharji (violin, mandolin), and Harris Paseltiner (cello, guitar) have created a natural history in song—taking us into gardens, almond groves, orchard rows, down to the ocean floor and under stars.
The band, which saw their ten-year anniversary in May of 2020, has long been praised for their harmonies and intelligent songwriting, described by NPR as "exquisitely-arranged, literary-minded, baroque Folk-Pop," and which The New Yorker compared to David Crosby and the Byrds. Their dynamic presence (crowded tightly together onstage for the audience to witness four voices turn to a singular texture of sound), paired with their sharp wit and wordplay, have made them a live-performance favorite, and their songs treasures for literary and lyric-loving fans.
But this album showcases their broader storytelling abilities: nature is a looking glass, the songs suggest, with tracks like "Ocean Bed," "Green + Evergreen," "Mountain + Sea" and "Crystal Caving" making metaphors of their titles. An experience of nature is an experience of self; an experience of self is one of natural change cut and complemented by stasis.
The band started studio recording Fish Pond Fish in late 2019, when they moved into Tarquin Studios—the residential studio of Grammy Award-winning producer Peter Katis (Interpol, The National). Living and working together brought them to their very early years under one roof in Hadley, Massachusetts, which had seeded the origins of their intimate collaboration. At Katis's suggestion, many components of the initial demos were preserved as layers in the produced tracks to retain the spirit of the initial recordings, resulting in a collection of songs that is simultaneously the most bedroom-tracked and production-heavy full-length album that the band has yet released.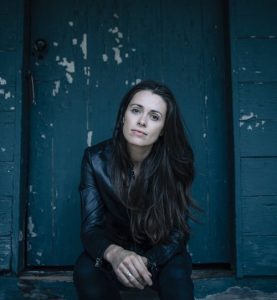 Opening Artist: Caitlin Canty
Caitlin Canty is an American singer/songwriter whose music carves a line through folk, blues, and country ballads. Her voice was called "casually devastating" by the San Francisco Chronicle and NPR Music describes her songs as having a "haunting urgency."
Raised in small-town Vermont, the daughter of a school teacher and a house painter, Canty earned her degree in biology in the Berkshires and subsequently moved to New York City. She spent her days in the city working as an environmental sustainability consultant and her nights making music at Lower East Side music halls and bars. In 2009, she quit her job and set out to make music full time. In 2015, she packed up her house plants and her 1939 Recording King guitar and drove to Nashville, TN, which she now calls home.
Since the release of her critically-acclaimed Reckless Skyline in 2015, Canty has put thousands of miles on her songs, circling through the U.S. and Europe. She warmed up stages for Mary Chapin Carpenter, The Milk Carton Kids and Josh Ritter and recorded with longtime collaborators Darlingside and with Down Like Silver, her duo with Peter Bradley Adams. She won the Troubadour songwriting competition at the Telluride Bluegrass Festival, and her song, "Get Up," was nominated for Song of the Year in the Folk Alliance International Music Awards. Canty's original recordings have recently appeared on CBS's Code Black and on the Netflix original series House of Cards.
Motel Bouquet, Canty's third record, features ten original songs that hold her darkly radiant voice firmly in the spotlight. Produced by GRAMMY-winning Noam Pikelny (Punch Brothers) and recorded live over three days in Nashville, the album boasts a band of some of finest musicians in roots music, including fiddler Stuart Duncan and vocalist Aoife O'Donovan. Rolling Stone hails Motel Bouquet as "dreamy and daring" with "poetic lyrics and haunting melodies."
SOPAC Member Discounts
$10 off tickets ($25 and up) for Benefactor, Impresario and Producer-level members ($900+)
$5 off tickets ($25 and up) for Advocate, Family, Ambassador and Champion-level members ($65-$500)
Not a Member? Join Today!
Covid-19 Precautions & Policies
Please know that SOPAC is dedicated to ensuring the health and safety of our entire community and we thank you in advance for reviewing our Covid-19 Precautions & Policies when planning your visit.
Read our Covid-19 Precautions & Policies
Questions? Contact the SOPAC Box Office at
(973) 313-2787 or boxoffice@SOPACnow.org
If you or a member of your party needs assistance, please notify SOPAC at the time your tickets are purchased. The SOPAC Box Office can be reached at (973) 313-2787.