Thursday, May 18 at 7:30PM
With countless tunes you know from the first note, rip-roaring gigs you can count on, and a whole lot of energy you'll take home with you, BoDeans continue to contribute to the American songbook as a tried-and-true institution. Founded and led by original frontman, songwriter, multi-instrumentalist, and producer Kurt Neumann, the band's catalog consists of generational anthems such as "Good Things," "You Don't Get Much," "Idaho," and "Closer To Free," just to name a few.
"The music of BoDeans has defined much of my life," muses frontman Kurt Neumann. "I consider myself fortunate to be able to do what I enjoy. I wanted to creatively do something positive for the world instead of just taking from it. So, this is what I've chosen to do with my life. The music was always about the blue-collar dream of a better life, and it still is."
BoDeans' album Thirteen (2017) received widespread acclaim, with Glide Magazine lauding the music's "understated grace—an attribute that no doubt fuels the steadfast approach Kurt Neumann has employed of his thirty-plus years as a 'BoDean'."  In 2018, BoDeans was added to the Rock and Roll Hall of Fame's permanent Midwest Artists exhibit.
BoDeans' released their fourteenth full-length album 4 The Last Time on June 24, 2022.  This album continues to reflect the soul and spirit of the modern American experience.
Don't miss your chance to experience BoDeans on SOPAC's mainstage!  Get your tickets today!
BoDeans performing their song "Closer to Free"
About Chris Trapper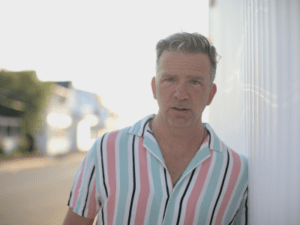 Chris Trapper is a storyteller.  With his soulful, honeyed tenor, sly humor, and an uncanny knack for melody, Chris has traveled the world over, performing to a dedicated and ever growing fan base with nothing but his guitar and his songs.  Raised on Prine and Kristofferson, Trapper's first foray in the music industry was as a frontman of the critically acclaimed alt-rock band The Push Stars.  Over the past decade, Trapper has become a modern-day acoustic troubadour, performing over 150 dates a year as a headliner and sharing the stage with the likes of Rob Thomas, Pat Benatar, and even John Prine himself.
SOPAC Member Benefits
Member Pre-Sale: Wednesday, March 8 at 12PM
Member Discounts: Members at the Advocate Level or higher ($65+) will receive a discounted ticket price.
Not a Member? Join Today!
Covid-19 Precautions & Policies
Please know that SOPAC is dedicated to ensuring the health and safety of our entire community and we thank you in advance for reviewing our Covid-19 Precautions & Policies when planning your visit.
Read our Covid-19 Precautions & Policies
Questions? Contact the SOPAC Box Office at
(973) 313-2787 or boxoffice@SOPACnow.org
If you or a member of your party needs assistance, please notify SOPAC at the time your tickets are purchased. The SOPAC Box Office can be reached at (973) 313-2787.