Sunday, October 22 at 7PM
Bring your friends and family together in The Loft at SOPAC for an intimate evening of world-class Blues and Roots music.  With the doors opening an hour before showtime for a BBQ dinner in The Loft, each performance in this series will take audiences on a journey through the evolution of Blues music.  The first evening in this brand new series features the "King of the Keys" and three-time Blues Music Award nominee David Keyes, and North Jersey's 2023 International Blues Challenge winner Blues People.
About David Keyes
Native New Yorker, keyboardist, singer and songwriter, Dave is a 30-year veteran of the Blues and American Roots music scenes. Blues Blast Magazine describes Keyes' most recent album, Rhythm, Blues and Boogie as "Rollicking fun from beginning to end, and sure to strike a positive chord with anyone who likes keyboard with good-time appeal."
For much of the last ten years, in addition to his own band and solo gigs, Keyes worked with bluesman Popa Chubby, and R&R queen Ronnie Spector until her recent passing. Previously Dave had lengthy stints with such iconic and varied artists as Odetta, David Johansen, Bo Diddley, Rockabilly legend Sleepy LaBeef and Gospel great Marie Knight.
Dave's music finds its roots in Deep Blues, Soul, and Rock and Roll. These roots are the foundation of his recent albums and vibrant live shows. His well-received previous albums are rambunctious sets of mostly original material that range from New Orleans Second Line Funk to slow sensual Blues, swaggering shuffles and boisterous rocking Boogie Woogie.
In 2000, Keyes won the Blues Foundation's International Blues Challenge. Additionally, he has appeared at numerous festivals in the US and abroad, including three appearances at France's prestigious Cognac Blues Festival and annual appearances at Lugano, Switzerland's Blues to Bop festival among many others. He also worked as a sideman for a who's who of Roots, Soul, and Rock and Roll music masters such as Eddy Clearwater, Big Jay McNeely, Tracy Nelson, Gladys Knight, Pam Tillis, Darlene Love, and the late great Ruth Brown, Lou Rawls and Levon Helm.
Official Music Video of David Keyes' "That's What Blues Are For"
About Blues People
North Jersey's 2023 International Blues Challenge winners, Blues People is a New York/New Jersey band featuring Kelton Cooper on guitar, Mike Griot on bass, Ron Thompson on keyboard, and Gene Lake on drums.
Blues People are experts in the global phenomenon that is "New York Blues," an edgy, honest, and one-of-a-kind Blues style.  From Lionel Hampton to Ruth Brown …from Michael Hill to King Solomon Hicks — New York is proud to claim its own unique Blues experience.
Having released two promotional singles in 2022 ("The Skin I'm In" and "Troubled Times"), Blues People is busy in the studio finishing up their much-anticipated 2023 debut album Troubled TImes.
These seasoned veterans have certainly paid their dues: as individual side men, they have supported a who's-who of touring "A-listers", including Sue Foley, Josh Smith, Kool & the Gang, Ruf's Blues Caravan and Michael Hill's Blues Mob… just to name a few.
Blues People musically explores the effects of the blues on modern American culture on many universal levels… and is a modern chronicle of four "real-life blues brothers" living in THIS time in America… while surviving the NY/NJ-Metro urban landscape.
Blues People performing at SOPAC's Blues in the Loft
Meet Chef Jesse Jones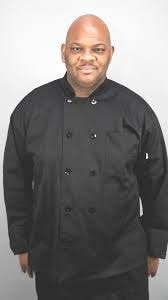 Inspired by a strong lineage, Jesse Jones is a classically trained chef and author renowned for his modern approach to southern cuisine. A native of Newark, NJ, Chef Jesse developed his culinary DNA during childhood summers in Snow Hill, North Carolina, where his grandmother's cast iron stove was the source of many memorable food experiences. Today, he continues to be influenced by her legacy, bridging past and present together through interpreting classic southern dishes with French techniques.
Whether catering private events, entertaining television audiences, or competing in regional cook-offs, Chef Jesse always brings the flavor. His catering company, Chef Jesse Concepts, has served celebrity clientele including Whoopi Goldberg, Sunny Hostin, Tyler Perry, John Legend, and more. He has appeared on abc7NY, PIX11, and other media outlets to share recipes from his cookbook and memoir, POW! My Life in 40 Feasts. In 2014, Chef Jesse was named a Top Chef by Inside Jersey. In 2010, he won the title of "Ultimate Chef of Bergen County, New Jersey."
Chef Jesse began his career at Aramark Food Services, where he climbed the ranks from dishwasher to sous chef. He later became executive chef at AT&T, managing a staff of 60. He then transitioned to restaurants, working in professional kitchens with top Master Chefs in the New Jersey area. During this time, Chef Jesse was classically trained at Hudson County Community College's Culinary Arts Institute. He also received a business certificate from the Katharine Gibbs School. Building upon his education and experience, Chef Jesse formerly owned Heart & Soul Restaurant in South Orange, New Jersey. He has also hosted "Chef Jesse Live" cooking demonstrations at Bloomingdales, Savory Spice Shop, and private parties.
Accessibility & Accommodation
If you or a member of your party needs assistance, please notify SOPAC at the time your tickets are purchased. Contact the SOPAC Box Office at (973) 313-2787 or boxoffice@SOPACnow.org.