New Jersey native and Broadway star Jelani Remy brings a feast of Pop, Soul and Musical Theatre to SOPAC's new Cabaret in the Loft series in his one-man show, "This is My Moment."
Jelanie Remy live at Feinstein's 54 Below
About Jelani Remy
Jelani Remy, a native of Cedar Grove, New Jersey, attended Montclair State University and was a recipient of Papermill Playhouse's Rising Star Award. His first after college role was as Chad in the national tour productions of High School Musical and High School Musical 2. He made his Broadway debut as Simba in Disney's The Lion King. Remy's next production, Smokey Joe's Cafe, earned him a Chita Rivera Award nomination for Outstanding Male Dancer.
He was last seen on Broadway playing the role of Eddie Kendricks in the Tony-award winning production of Ain't Too Proud: The Life and Times of The Temptations. And, most recently, Remy starred as The Emcee in Cabaret at Goodspeed Opera House.
Remy has also appeared in an off-Broadway production of The Apple Boys; Anjou: The Musical Horror Tale and The Oscar Michaeux Suite.
Broadway World praises Remy's solo show, "This is My Moment," saying "There are some people who just bring joy wherever they go. People who, just by the force of their personality, make things feel safe and kind and fun.  Jelani Remy is just that sort of person," and this show celebrates his "marvelous, rangy voice."
About Cabaret in the Loft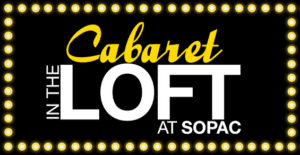 SOPAC's Cabaret in the Loft series is a 54 Below-esque experience, west of the Hudson River. The club-like atmosphere of the SOPAC Loft is perfect for this intimate series. Performers in the series live in the greater SOMA area, which was appropriately named the place "where Broadway comes home to sleep" by the New York Times.
Cabaret in the Loft is curated by Matthew Luminello, SOPAC's Audience Services Manager, a former Broadway usher and current local theater performer.
SOPAC Member Discounts
$10 off tickets ($25 and up) for Benefactor, Impresario and Producer-level members ($900+)
$5 off tickets ($25 and up) for Advocate, Family, Ambassador and Champion-level members ($65-$500)
Not a Member? Join Today!
Covid-19 Precautions & Policies
Please know that SOPAC is dedicated to ensuring the health and safety of our entire community and we thank you in advance for reviewing our Covid-19 Precautions & Policies when planning your visit.
Read our Covid-19 Precautions & Policies
Questions? Contact the SOPAC Box Office at
(973) 313-2787 or boxoffice@SOPACnow.org
If you or a member of your party needs assistance, please notify SOPAC at the time your tickets are purchased. The SOPAC Box Office can be reached at (973) 313-2787.