Bring your friends and family together in The Loft at SOPAC for an intimate evening of world-class Blues and Roots music, curated by SOPAC Brain Trust Member Mike Griot.  With the doors opening an hour before showtime for a BBQ dinner in The Loft, each performance in this series will take audiences on a journey through the evolution of Blues music.
Stay tuned for information about the performers!
Meet Chef Jesse Jones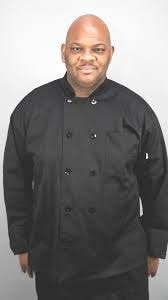 Inspired by a strong lineage, Jesse Jones is a classically trained chef and author renowned for his modern approach to southern cuisine. A native of Newark, NJ, Chef Jesse developed his culinary DNA during childhood summers in Snow Hill, North Carolina, where his grandmother's cast iron stove was the source of many memorable food experiences. Today, he continues to be influenced by her legacy, bridging past and present together through interpreting classic southern dishes with French techniques.
Whether catering private events, entertaining television audiences, or competing in regional cook-offs, Chef Jesse always brings the flavor. His catering company, Chef Jesse Concepts, has served celebrity clientele including Whoopi Goldberg, Sunny Hostin, Tyler Perry, John Legend, and more. He has appeared on abc7NY, PIX11, and other media outlets to share recipes from his cookbook and memoir, POW! My Life in 40 Feasts. In 2014, Chef Jesse was named a Top Chef by Inside Jersey. In 2010, he won the title of "Ultimate Chef of Bergen County, New Jersey."
Chef Jesse began his career at Aramark Food Services, where he climbed the ranks from dishwasher to sous chef. He later became executive chef at AT&T, managing a staff of 60. He then transitioned to restaurants, working in professional kitchens with top Master Chefs in the New Jersey area. During this time, Chef Jesse was classically trained at Hudson County Community College's Culinary Arts Institute. He also received a business certificate from the Katharine Gibbs School. Building upon his education and experience, Chef Jesse formerly owned Heart & Soul Restaurant in South Orange, New Jersey. He has also hosted "Chef Jesse Live" cooking demonstrations at Bloomingdales, Savory Spice Shop, and private parties.
Accessibility & Accommodation
If you or a member of your party needs assistance, please notify SOPAC at the time your tickets are purchased. Contact the SOPAC Box Office at (973) 313-2787 or boxoffice@SOPACnow.org.